10 Best Dog Friendly Restaurants in Canton, OH
Admit it. You would rather spend time with your furry friend than with actual humans. Dogs have become a huge part of our lives, and it's no surprise that we want to spend every waking moment with them. If you live in the greater Canton, OH, area with your sweet ball of fur, you will naturally be looking for dog-friendly places and activities to keep yourself busy. And if you love treating yourself to something yummy, you would be happy to know that there are plenty of dog-friendly restaurants in Canton, OH. From ice cream spots serving creamy delicacies to beer halls and barbecue joints, here are Canton's best pet-friendly restaurants.
Fat Head's Brewery
When Glenn & Michelle decided to pursue the crazy idea of establishing a bar and restaurant, Fat Head's breweries was born. Years later, the establishment had doubled in size. The brewery is twice in size and features a fantastic beer hall and restaurant. The brewery serves craft beer and pub fare. Their extensive menu includes classic bar foods like sandwiches, burgers, smoked wings, appetizers, and their signature "Headwiches" that are literally about the size of your head. Fat Head's Brewery is entirely pet-friendly, so feel free to bring Teddy next time you want to grab a meal and a drink.
Demario's Pizza 
Demario's Pizza serves a tasty menu of homemade delicacies, including pizza, calzones, stromboli, and more. Indulge in fresh pepperoni rolls and savory meatballs. On top of that, the restaurant offers plenty of pet-friendly seating with more than fifteen tables. Grab a slice of pizza with your pup by your side, or dig into their popular fares like burgers, wings, flatbreads, and sandwiches or vegetarian options.
Royal Docks Brewing Co. Taproom & Kitchen 
In April 2015, John and Dave hopped on a plane with just a substantial amount of cash to their name to meet a stranger selling a brewing system. While the two admit that maybe that wasn't the wisest decision, they knew they were chasing a dream that began when they lived in London, where a vibrant pub culture surrounded them. And the Royal Docks Brewing Co. Taproom & Kitchen was born. The casual brewpub in Canton, OH, serves delicious drinks and tasty fare. Your dog can join you at one of their outdoor pet-friendly tables.
Mission BBQ 
Mission BBQ opened its door on September 11, 2011, ten years after a disaster that's still in every American's heart. Two friends passionate about barbeque and their country established a place that would remind everyone who comes in what makes America great: its homegrown heroes. They believe that BBQ defines the American culture best and serve their authentic meats in honor of all those who serve the country. Indulge in brisket, pulled chicken, pulled pork, and sausages at the Canton location. Thanks to plenty of pet-friendly tables outside, dogs can accompany their owners.
Almost Heaven Homemade Ice Cream 
Almost Heaven Homemade Ice Cream is a dog-friendly ice cream spot in Canton, OH. The establishment has four pet-friendly tables where your dog can sit beside you as you indulge your sweet tooth. Choose from thirty flavors, including salty caramel, double dark chocolate, or coconut cream pie. And if you want something more than ice cream, they also serve pulled pork, nachos, and hot dogs.
Piada Italian Street Food 
A trip to Rimini, Italy, inspired Piada Italian Street Food. The street food spot is located on Belden Village Street and offers five pet-friendly outdoor tables for dog owners who wish to bring their pups. Piada Italian Street Food hand-rolls and stone-bakes the piadas used as sandwich wraps. You can create your own pasta or consider one of their specialty dishes – Basil Pesto and Diavolo. Also, depending on the season, they serve their classic Porchetta Sandwich or Italian Trio Tasca that you can wash down with an Italian soda or blood orange pomegranate tea.
Roosters Wings 
Roosters Wings is located on Dressler Road NW and has six dog-friendly outdoor tables for dining with your canine companion. Wings are the main delicacy fare, and you can choose between traditional or boneless wings with plenty of flavor options like the super-hot Nu-Killer or the mild Carolina Gold. At Roosters Wings, you can even get a buffalo chicken pizza topped with full-sized wings. They also have a vast selection of sandwiches, appetizers, oven-baked subs, salads, and soups.
The Human Bean 
The Human Bean opened its doors for business in 1998 with a commitment to be the best drive-thru in Southern Oregon. Today, The Human Bean has more than 300 branches in 25 states in the US. The Canton, Ohio, location is dog-friendly, allowing owners to bring their pets to the walk-up window or drive-thru. Your dog will enjoy slurping their own treat provided by the friendly staff.
Chipotle Mexican Grill 
Real is better. Better for You, Better for People, and Better for Our Planet is what Chipotle Mexican Grill is all about. The eatery was born out of a belief that there is a strong connection between how food is raised and prepared and the resulting taste and that food served fast doesn't have to be typical fast food. The dog-friendly restaurant is known for its Mexican delicacies like tacos, burritos, bowls, and delicious salads. Locals and visitors craving a customized burrito bowl can indulge alongside their canine friends. The menu allows you to choose from crispy corn to soft flour tacos, burritos, or salad, then choose from a wide selection of steak, chicken, carnitas, barbacoa, or sofritas with a side of rice beans or fajita veggies. The feast is topped with salsas, guacamole, lettuce, or cheese.
Handel's Homemade Ice Cream & Yogurt 
A few ice cream spots in Canton, OH, are also dog-friendly. Handel's Homemade Ice Cream & Yogurt is one of the best serving creamy treats made fresh daily on the premises. Your dog is welcome to join you at one of the spacious, pet-friendly outdoor benches. Choose from flavors like bananas foster, cinnamon sticky bun, praline pecan, maple walnut, butter toffee, peanut butter and jelly, or thin mint.
Basic Dog Obedience Training in Canton, OH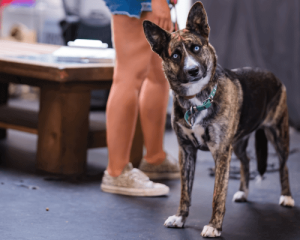 You should have a well-behaved pup if you are thinking about grabbing breakfast, lunch, or dinner with your favorite canine companion. While you will likely find more pet-friendly establishments today than in the past few years, you must ensure your dog has what it takes to take to any of these places. Basic obedience skills are a must.
A dog who is aggressive, barks a lot, doesn't listen to commands, or gets easily distracted isn't the ideal dining companion. While you can train your dog on your own, you will get more results if you use a professional dog trainer. Off Leash K9 Training of Canton & Akron is one of the highest-rated dog training businesses in the United States. Serving the Canton and Akron areas, we offer a variety of dog training programs designed to give you a dog with the same level of obedience as military and police dogs. Our training is done off-leash with distractions to give you a 100% obedient, 100% off-leash, and 100% distraction-proof dog within no time. Choose from our programs involving basic and advanced obedience, dog aggression, and reactivity or freedom board and train. We also offer puppy training consultations to give your dog the best start in life. Our dog obedience training is one of the best and globally recognized. On top of that, our success rate is impeccable, and all our methods are safe and effective.