Leaving your furry friend behind when you go out of town can be tough, but with proper preparation, you can ensure that your dog has a positive boarding experience. Dog boarding is a service where you can board your dog at a boarding or kennel facility while you're away. To make the process as smooth as possible, it's important to find the right dog boarding facility that meets your dog's needs.
What is Dog Boarding?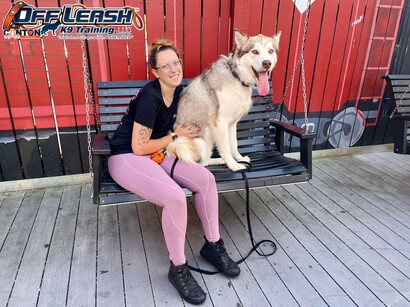 Dog boarding is a service that provides a safe and comfortable place for your dog to stay while you're away. It's an alternative to leaving your dog home alone or relying on a pet sitter. A reputable boarding facility will have staff members who are experienced in caring for dogs and will provide your furry friend with the care and attention they need.
The Importance of Finding the Right Dog Boarding Facility 
Finding the right dog boarding facility is extremely important for pet owners. When you need to go out of town or have other commitments that prevent you from taking your dog with you, you want to ensure that they will be well taken care of while you are away.
A good dog boarding facility will provide a safe and comfortable environment for your furry friend. They will have experienced staff members who are trained to handle dogs and will provide them with proper care and attention. In addition, these facilities often offer a variety of services such as feeding, exercise, and grooming, which can help keep your dog healthy and happy during their stay. It is crucial to do thorough research and visit different facilities to find the one that best suits your dog's needs. By finding the right dog boarding facility, you can have peace of mind knowing that your beloved pet is in good hands while you are away. 
What Should You Consider When Choosing Where to Board Your Dog?
When choosing a boarding facility for your dog, there are several factors to consider. Firstly, it's important to know if the facility is clean, well-maintained, and provides a safe environment for your dog. Additionally, you should inquire about the qualifications and experience of the staff members who will be taking care of your dog. It's also a good idea to ask about the boarding services and amenities they offer, such as playtime, walks, and grooming services.
How Can I Find Dog Boarding Services in My Area?
If you're unsure where to find dog boarding facilities in your area, there are a few ways to start your search. One of the best ways is to do some research online. Many dog boarding facilities have websites where you can find information about their services, facilities, and rates. Another option is to ask for recommendations from friends, family, or your veterinarian. They may have used or heard of reputable boarding facilities in your area.
Do some research
Doing some research online is a great way to find dog boarding facilities in your area. For example, if you're looking for a dog boarding service in Canton, OH, you can look up Google for this specific location. The search results will come up with reviews and ratings of different facilities to get an idea of their reputation and quality of service. You can also check if they have any certifications or affiliations with professional organizations related to pet care by looking at their websites.
Ask For recommendations
Asking for recommendations from trusted sources is another effective way to find dog boarding facilities in your area. Friends, family, and neighbors who have used boarding services before can provide valuable insights and recommendations based on their personal experiences. Your veterinarian or local animal hospital may also be able to recommend reputable boarding facilities in your area.
Research and Tour Your Dog Boarding Facility
Once you have a list of potential dog boarding facilities, it's important to visit them in person to assess their suitability for your dog. Call ahead to schedule a tour of the facility and speak to the staff members. During the tour, pay attention to the cleanliness, safety measures, and overall environment of the facility. Ask about their protocols for feeding, exercise, and handling any medical emergencies that may arise.
Arrange A Trial Period of Accommodation  
Before leaving your dog for an extended stay, it's a good idea to plan a trial boarding stay to see how well your pet adjusts to the new environment. This will give you peace of mind knowing that your dog will be comfortable during their longer stay. During the trial stay, observe how your dog interacts with the staff and other dogs, and ensure that they are eating and sleeping well.
Prepping Your Dog for Boarding
Preparing your dog for boarding can be a stressful experience, but with some careful planning and preparation, you can help ensure your pet's comfort and wellbeing during their time away from home. It's essential to pack all the necessary items for your dog's stay, including food, medication, toys, and bedding that smells like home. To ease any separation anxiety, spend some time away from your dog in the weeks leading up to boarding, gradually increasing the duration. Lastly, on the day of drop-off, keep your farewell brief and positive to minimize stress for both you and your dog. By following these steps, you can help make your dog's boarding experience as comfortable and enjoyable as possible. 
Practice leaving your dog by himself 
If your dog is not accustomed to being alone, it's important to practice leaving them alone for short periods of time. This will help them adjust to the separation and reduce any potential anxiety they may experience while boarding.
Ensure that your dog is accustomed to interacting with other dogs 
When boarding your dog at a facility with other dogs, it's essential that they are well socialized and comfortable being around other dogs. This will ensure a peaceful and happy experience for your dog during their stay.
Ensure that your dog's vaccinations are current.
Prior to boarding, it's crucial to ensure that your dog is up-to-date on all their vaccinations. This will help prevent the spread of diseases and ensure the safety of all the dogs at the facility.
Current veterinary records
It's important to provide the boarding facility with your dog's current veterinary records. This includes information about their vaccinations, any ongoing medical conditions, and any medications they may be taking.
Make sure your dog has parasite prevention medicine
Before boarding, make sure your dog is on a regular schedule of parasite prevention medicine, such as flea and tick prevention. This will help protect your dog from any potential infestations during their stay.
Gather your dog's playthings, blankets, and additional belongings from home
Bringing familiar items from home, such as your dog's favorite toys, blankets, or bedding, can help them feel more comfortable and secure during their stay at the boarding facility.
Adjust your dog's sleeping habits
If your dog is used to sleeping in a particular place or on a particular surface, try to mimic that in the boarding facility. This will help your dog feel more at home and ease any anxiety they may have about the new environment.
Ensure your dog's comfort while you are away by taking necessary measures 
Provide the boarding facility with any specific instructions on how to keep your dog comfortable while you're away. This may include dietary restrictions, medication schedules, or any special routines that your dog is accustomed to.
Visit Your Dog's Veterinarian
Before boarding, take your dog for a check-up at their veterinarian. This will ensure that they are in good health and ready for their boarding stay. Your veterinarian may also be able to provide additional tips or recommendations for preparing your dog for boarding.
Trust your instinct and go with your gut
Ultimately, it's important to trust your instincts and go with your gut when choosing a boarding facility for your dog. If something feels off or if you're not comfortable with the facility, it's best to continue your search until you find the right place for your furry friend.
One of the most effective ways to prepare your dog for boarding or even daycare is a well-behaved canine companion. Basic commands like "sit", "come", and "heel" can help them behave while in the pet boarding or dog boarding kennel, giving the staff at these facilities an easier time with your pet. If you're looking for a personalized dog training program for your canine companion, OLK9 Training Canton is a good place to start. Let us schedule you for a phone consultation to see if we are the right fit for your dog's first few steps to obedience!
And always, feel free to contact us if you have any questions about your dog, their health, or their obedience. We're always here for you and your K9 family members!